Physically Integrated Dance Series: "Life After Life" Screening and Q&A
April 16 : 6:00 pm

-

8:00 pm

Free
Event Navigation
View the film and then meet Film Director Christopher Boulton and Featured Dancer/Actor Dwayne Scheuneman for a question and answer session after the film.
Watch the trailer here: https://vimeo.com/307585882
" Life After Life is a lovely film. The choreographers form a special bond with three chrarismatic senior women as they shape raw, simple, authentic movement into a personal story told through movement. This is not a dance-made-for-film but more of a human-interst story with a wider appeal touching on aging, healing, the creative process, and just so many levels of the human condition."
– (Karen Peterson, Artistic Director of Karen Peterson in Miami, FL)
DR. CHRISTOPHER BOULTON is an Associate Professor of Communication at the University of Tampa where he teaches media studies, film production, and travel courses abroad. Dr. Boulton has written and produced television for Mister Rogers' Neighborhood, Discovery Channel, Travel Channel, and Court TV. His films on sports, science, and dance have shown at festivals all over the world including Filmwinter in Germany, Revelation in Australia, On Art in Poland, Besides the Screen in Brazil, and the Sarasota, Santa Cruz, and Cinema on the Bayou film festivals in the United States.
Director Statement:
"Modern dance can be difficult to understand and appreciate, much less perform. What began as a rebellion against the formalism of ballet can now seem like an esoteric art reserved for sophisticated audiences and young dancers. But there is a growing movement to make modern dance more physically integrated and accessible by including mature and/or uniquely-abled performers not typically associated with grace and athleticism, but for whom the desire and ability to move is never taken for granted. I made this film as a way to better understand the creative process of modern dance choreography from that perspective. The result is a revealing look at an unlikely cast of characters overcoming obstacles to tell stories through movement and make modern dance more open to each and every body. It was an honor to work with these women and I can't wait for you to meet them."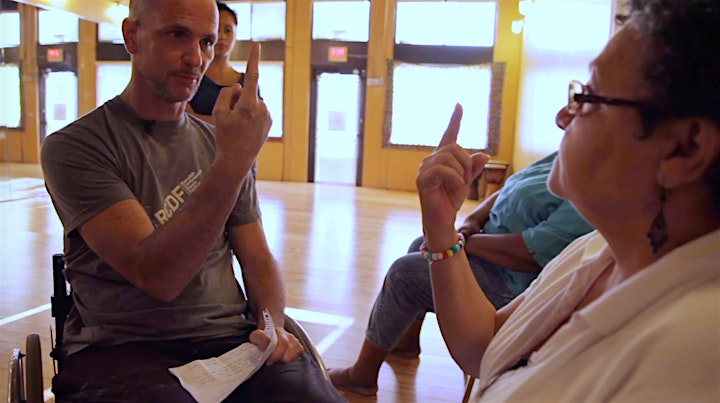 DWAYNE SCHEUNEMAN is Co-Founder, Artistic Director, Inclusive Dance Educator, and Dancer with REVolutions Dance. Shortly after becoming paralyzed in a diving accident in 1995, Dwayne began competing in wheelchair track and field. In 2002, he was looking for some sort of cross training activity when a friend suggested he try taking a dance class. He started taking classes and was invited to perform and, from there, the rest is history. While dancing, he discovers two things that he and no otherwise experience in sports, a broader range of physical challenges and a deeper and more meaningful connection with his fellow dancers.
Dwayne received his BA in special education from the University of South Florida. He has been a professional dancer since 2002 and has conducted workshops around the US and the world having completed eight tours and six countries.
Being a former wheelchair athlete and having strong connections to the disabled community. Dwayne began reaching out to his disabled peers and inviting them to participate in different dance activities. In 2005, Dwayne along with his colleague Amie West decided to make it official and together they formed the nonprofit organization, REVolutions Dance.
Physically Integrated Dance Series: This series is an expansion of the popular annual NCF Dance for Parkinson event. In keeping with our focus of offering physically integrative movement, we aim for this series to show its participants that dance is for everybody, no matter their age, social-economic background, abilities, and or previous experiences or lack of  dance. For the full series line-up visit ncf.edu/physically-integrated-dance-series/
Support for these events was provided by a grant from the Andrew W. Mellon Foundation.
This event is made possible through the efforts of Sarasota Contemporary Dance and New College of Florida's Partnership.